×
Joe Tennis
×
Video Tour: The Hensley Settlement at Cumberland Gap National Historical Park
An interview with guide Jarrod Dotson. Video and interview by Joe Tennis.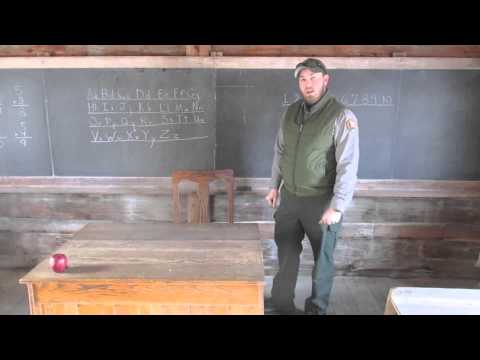 Famed frontiersman Daniel Boone blazed a trail to the bluegrass of Kentucky in the late 1700s by walking through the Cumberland Gap – at what became the tri-state corner of Kentucky, Tennessee and Virginia.
"This is the first gateway to the west," says Carol Borneman, a ranger at the Cumberland Gap National Historical Park. "It is such a magical place."
Friday: Abe Lincoln and a Squeaky Front Door
South of Cumberland Gap, you'll find a museum in Tennessee honoring President Abraham Lincoln. The 16th president's forefathers crossed through the Cumberland Gap and made their way west. About a century later, this museum was chartered in 1897 at what became Lincoln Memorial University (LMU) in Harrogate.
"The reason the university is here is because this area was real loyal to the union," says Joe Wolfenbarger, an LMU graduate.
Founding LMU and this accompanying museum came as a gift to the locals, says Tom Mackie, the museum director. "Cumberland Gap is the epicenter of the pro-Union South."
Cumberland Gap, too, marked a strategic point during the Civil War – the time when Lincoln served as president. The gap changed hands a few times, says park historian Martha Wiley.
The Civil War, still, remains a hot-button issue. "To this day, at reunions, you really don't want to bring the war up, because there were families that lost members on both sides," says John Ravnum, a local re-enactor of the War Between the States.
Laced with Civil War history, the Abraham Lincoln Library and Museum faces U.S. Highway 25E. This "Dixie Highway" connects I-81 near White Pine, Tennessee, to I-75 near Corbin, Kentucky. At the heart of that journey, Tennessee meets Kentucky at a 4,600-foot-long tunnel through Cumberland Mountain, immediately west of the fabled Cumberland Gap.
For one night, I stay south of the tunnel at Cumberland Gap, Tennessee. This quaint little town is where Ravnum and his wife, Geri, sell figurines and commemorative cups at their Cumberland Gap General Store.
I check in at the Cumberland Gap Inn. Then I walk – about a block – for a chicken Caesar salad at the Gap Creek Coffeehouse, an eatery operated by Wolfenbarger. I also try the café's Cuban Melt, a creation of sandwich maker A.J. Fultz – with ham, turkey, dill pickles and Swiss cheese, topped with a special (and secret) sauce on sourdough bread.
In cold months, the Gap Creek Coffeehouse makes a great spot to caress a cappuccino. Come spring, coffee consumers clamor for the creek, where Gap Creek spills forth from Gap Cave in Virginia and takes a rocky tumble before quietly meandering past the coffeehouse lawn.
"One of the big things that attracts people is the squeak of that front door," Wolfenbarger says. "They come in and say it reminds them of going in their grandparents' house."
This eatery, built in the 1920s, was previously a private residence. It was also once a tattoo parlor. Now, Wolfenbarger says, the restaurant building might even be haunted: This ex-coach cited strange happenings, like blenders coming on by themselves. "It's not a scary feeling – to me," Wolfenbarger says. "It's just like someone else is here with you."
---