×
Table Rock, Monongahela National Forest
The sun never sets on options for day hikers and backpackers in West Virginia's Monongahela National Forest.
×
More From Cass Scenic Railroad State Park
Click to view a playlist of YouTube videos from the Cass Scenic Railroad.
×
Darryl Cannon
The Tail of the Dragon
The Tail of the Dragon (U.S. 129) near Tapoco, N.C., features 318 curves in 11 miles, and is one of the nation's toughest motorcycle routes.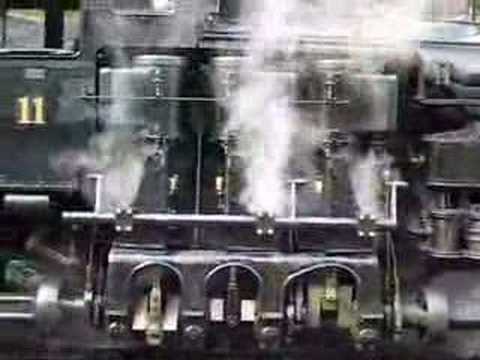 For every tree that turns a brilliant scarlet or sunburst orange, there's something to do in the Southern Appalachians this fall. Lucky are those who live or visit in the highlands and valleys of the region, from Maryland to Georgia, Kentucky to the Carolinas. Cooling temperatures bring extra vigor to a region already ripe with activities. 
North Carolina
1. Leaf Peak
Avoid the crowded Blue Ridge Parkway by cruising down U.S. 64 into Chimney Rock State Park (828-625-9611 / chimneyrockpark.com) near Lake Lure. The view from the 315-foot "chimney" is an astounding place to see the leaf change sweeping over the eastern edge of the Blue Ridge Escarpment.
Stay: The 1927 Lake Lure Inn & Spa, Lake Lure (888-434-4970 /  lakelure.com).
Eat: Larkin's on the Lake, Lake Lure (828-625-4075 / larkinsonthelake.com).
2. Splash Down
Not really, but you'll love getting wet while rafting down the Nantahala River near Bryson City with Nantahala Outdoor Center (828-785-5082 / noc.com).
Stay: Nantahala Cabins, Nantahala Outdoor Center (828-488-1622 / nantahalacabins.com)
Eat: Cork and Bean, Bryson City (828-488-1934 / brysoncitycorkandbean.com) uses local and organic when it can and offers bagels for breakfast and tapas all day, as well as local brews from Nantahala Brewery.
3. Cast Away
River's Edge Outfitters in Spruce Pine (828-765-3474 / riversedgeoutfittersnc.com) guides fly fishing trips along more than 3,000 miles of waterway in the region.
Stay and stay: With its own trout fishing pond, Vance Toe River Lodge in Plumtree (828-765-9696 / vancetoeriverlodge.com) has an inn, cabins, campsites, restaurant, winery and brewery. 
4. All Aboard
Leaving from Bryson City, Great Smoky Mountains Railroad's open-air gondolas take leaf lookers through the Nantahala Gorge. Bluegrass musicians and storytellers perform during the 4.5-hour round-trip excursion (800-872-4681 / gsmr.com).
Stay: Fryemont Inn, Bryson City (828-488-2159 / fryemontinn.com).
Eat: At Nantahala Outdoor Center's River's End Restaurant (828-488-7172 / noc.com) during the trip's one-hour layover.
5. Kidding Around
Children's events at Grandfather Mountain or Grandfather Mountain State Park (800-468-7325 / grandfather.com), like Creatures of the Night and Bonfire Delight Oct. 4, will inspire interest in nature.
Stay: Yonahlossee Resort & Club, Boone (828-963-2393 / yonahlossee.com)
Eat: Splurge worthy, The Gamekeeper Restaurant (828-963-7400 / gamekeeper-nc.com) at the resort grills wild game and serves Southern comfort food in an old mountain lodge-style home.
6. Apple Picking
The 45-minutes hayrides at The Orchards at Altapass (828-765-9531 / altapassorchard.org) near Spruce Pine pass beneath old apple trees and include stories about early settlers, revolutionary war fighters and the coming of the railroad. Pick (or buy) a peck of apples while you're there.
Stay: Switzerland Inn, Little Switzerland(828-765-2153 / switzerlandinn.com).
Eat: Mountain View Restaurant, Little Switzerland (828-766-9670 / mountainviewrest.com).
7. Get Crafty
A local tradition since 1948, the Craft Fair of the Southern Highlands in Asheville (southernhighlandguild.org) convenes more than 200 juried craft artisans who excel in clay, fiber and other media.
Stay: Aloft Asheville Downtown (866-716-8143 / aloftashevilledowntown.com).
Eat: Small plates at Bull and Beggar, Asheville (828-575-9443 / the-bull-and-beggar.com) are extra tasty when preceded by an Iron Rail IPA at Wedge Brewing Co. next door.
8. Looking Ahead
The Tail of the Dragon (U.S. 129) near Tapoco – 318 curves in 11 miles – is considered to be one of the toughest motorcycle and sport car challenges in the country.
Stay and Eat: Built in 1930, the Historic Tapoco Lodge, Robbinsville (828-498-2325/ tapocolodge.com) sits on 120 acres in the Nantahala National Forest. Guests may savor Jasper's Restaurant's five-course menu.
Virginia
9. Traditionally Yours
The Crooked Road is Virginia's heritage music trail, one that passes through thoroughly bluegrass towns like Floyd and Galax, where regional musicians flex their fine talents at the Rex Theater on Friday nights.
Eat: The Galax Smokehouse, Galax(276-236-1000 / thegalaxsmokehouse.com), with its award-winning banana pudding.
Stay: The Doctor's Inn, Galax (276-238-9998 / thedoctorsinnvirginia.com).
10. Wining Allowed
Speaking of tours, the Shenandoah Valley Wine Trail (shenandoahvalleywinetrail.com) encompasses some two dozen vineyards and tasting rooms on either side of Interstate 81.
Eat: Savor local wines and classic sandwiches at Cristina's Café, Strasburg (540-465-2311 / cristinascafe.net), a "green" restaurant owned by two sisters.
Stay: The Hotel Strasburg, Strasburg (540-465-9191 / hotelstrasburg.com).